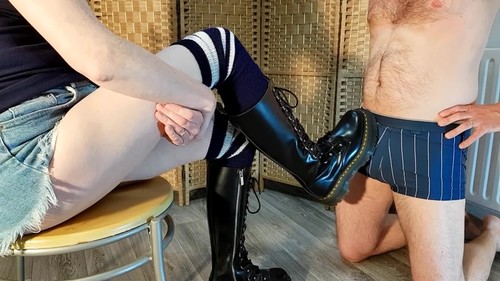 DOMINATED BY DOC MARTENS.mp4
File Size: 463 Mb
Resolutin: 1920 x 1080/ 30 fps
Duration: 00:11:23
Kinky is wearing her hot new Dr Marten knee-high boots with their massive chunky soles.
These boots must have been designed for dominating losers and Kinky can't wait to stomp
slave with them. After pulling on her boots she tramples slave beneath her rugged boot
soles, leaving red marks all over his back. Slave is obsessed with her boots though so
Kinky kicks and squeezes his cock with them. Kinky then puts her heavy boots on slave's
face and demands he kisses and licks them. Kinky then rests her boots on his head and throat
with slave completely at her mercy. Kinky plays with slave's cock some more in a POV shot
before finishing him off by grinding his cock under her boot soles until he shoots his cum!
Category: BOOT DOMINATION
Related Categories: BOOT FETISH , SHORT SHORTS , SHOEJOB , SHOE & BOOT WORSHIP
Keywords: dr martens , bootjob
DOMINATED BY DOC MARTENS.mp4